Colonial Collision Center
Give us a call: 724-465-5605
Lifetime repair warranty
Guaranteed completion dates

FREE pick up and delivery
Monday-Friday 8:00 AM to 4:30 PM ,Saturday by Appointment
Manager: Mark Hamilton
97 North 2nd Street,
Indiana PA 15701
24 Hour Towing: 724-349-8778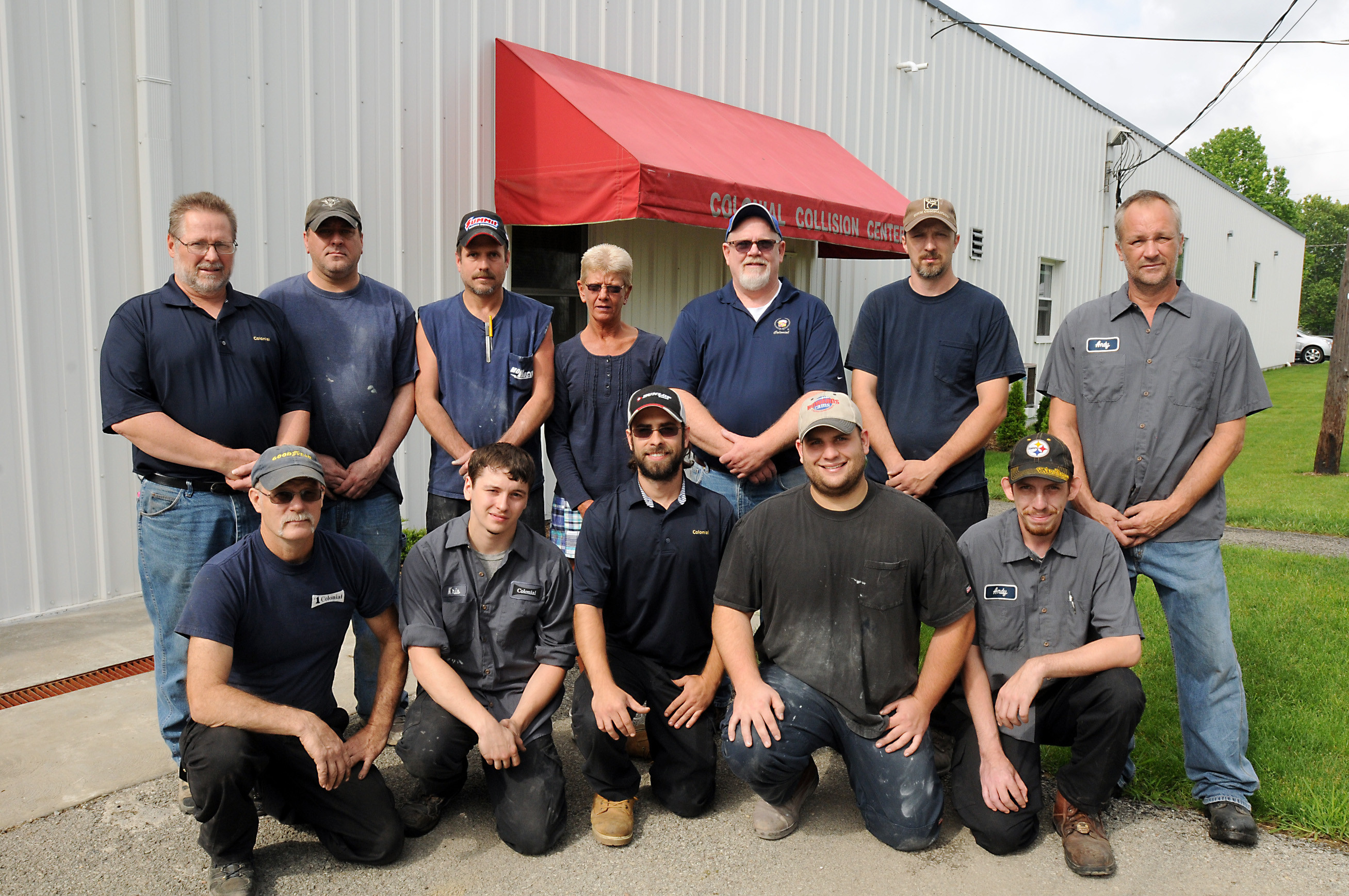 COLLISION REPAIR PROCESS
There are many steps involved with the repair process. As a general rule, the more damage caused in the accident, the more complex the repair process is. Listed below are the steps for an "average" collision repair.
Administrative
After the estimate has been written, the insurance company and owner approvals are obtained.
Parts/Disassembly
In most cases, parts are ordered before the vehicle goes into production. The estimate is given to the technician that has been assigned to repair your vehicle. Damaged parts are removed, and a list is prepared for the Customer Service Representative that details all hidden damage found at this time.
Revised Estimate
The Customer Service Representative makes changes to the estimate based on additional damage that is found and forwards this information to the insurance company. The vehicle owner is called with an update. Many times, additional parts will need to be ordered after the estimate is revised.
Structural Repairs
If any damage is found to the inner structure, it is repaired on one of our frame racks.
Cosmetic Repairs
After removing the vehicle from the frame rack, sheet metal repair and replacement operations are performed.
Refinishing/Polishing
All panels that will need to be refinished go through a very thorough preparation process. The outside finish is applied in one of two Spraybake downdraft/heated spray booths. Then the exterior of the vehicle is polished as needed to match the original factory finish and texture.
Reassembly
The vehicle goes back to the body shop to have trim such as door handles and moldings reinstalled.
Mechanical Repairs
Any mechanical operations that are performed by a specialist, such as air bag replacement, are performed at this time.
Detailing
The vehicle is cleaned thoroughly, inside and out.
Quality Control
Each area that was repaired is checked closely to ensure that all work was properly completed. In addition, most repaired vehicles are road tested. If anything is found to be operating incorrectly, it is either repaired, or if it is something not related to the loss, the customer is notified.
Customer Called
The customer is called during the repair process to keep them informed as to the status of the repairs.
Customer Satisfaction Index
The customer is called approximately one week after they pick up their vehicle to make sure that they are happy with not only the repair work, but with the entire repair process.
Testimonials
Friendly, Accommodating, & Professional
Indiana, PA
August 7, 2017
Great!
August 5, 2017
New Vehicle Purchase
Greensburg, PA
August 2, 2017
Great Experience at Colonial
New Kensington, PA
August 2, 2017
Quick & Painless
July 25, 2017
Worth The Travel
July 24, 2017
Outstanding Dealership
Home, PA
July 21, 2017
Above and Beyond
Shadyside, OH
June 29, 2017
No Other Dealership Compares
June 21, 2017
2016 Sierra Denali Ultimate
Indiana, PA
June 14, 2017
Buying A New Car
Hillsdale, PA
July 7, 2017
Excellent Experience
May 22, 2017
Courteous and genuinely caring
April 1, 2017
Pleasant Experience
Rural Valley
March 13, 2017
Friendly & Nonpushy
Pittsburgh, PA
February 21, 2017
Customer since the 70's
Indiana, PA
April 18, 2017
First Time Car Buying Experience
Vintondale, PA
April 3, 2017
Outstanding with no hassle
December 21, 2016
Best, friendly dealership around
December 21, 2016
Great People!!!
December 19, 2016
A Great and Honest Experience
December 21, 2016
best place to buy a Cadillac in PA
December 1, 2016
Awesome service from a professional and friendly staff
November 30, 2016
Very happy experience
November 24, 2016
I am the first girl in my family to buy my own truck!
November 22, 2016
Excellent over the top service
November 18, 2016
Well worth the drive!
November 7, 2016
Small town hospitality
November 3, 2016
Buying a used pickup
October 28, 2016
Bought My 2016 Yukon Denali Over the Phone
October 20, 2016
Great place to purchase a vehicle
October 7, 2016
Knowledgeable & friendly staff
September 20, 2016
Happy Customer
September 7, 2016
Car buying made easy!
September 5, 2016
Back again
September 2, 2016
First Time
November 19, 2015
Great Experience
November 27, 2015
Home of the Warrenty Forever
November 18, 2015
Friendly
July 22, 2015